Climate change affects essentially all ecosystems, and there is an intense discussion about the consequences of increasing temperatures. Loss of Arctic sea-ice is certainly among the most obvious consequences, and significant effects on ice-dependent species can be safely assumed. This includes most likely negative effects on polar bears (Ursus maritimus), an iconic species in the climate change debate that has been studied for many years.
As members of a large research team led by scientists from the Norwegian Institute of Bioeconomy Research (NIBIO – nibio.no) Lutz Bachmann and Øystein Wiig from the FEZ group participated in a recent study that addressed the genetic impact of reduced sea ice cover on the polar bears. The bears have been sampled across two decades (1995–2016) at the Svalbard Archipelago, Norway. Using the genetic variation at 22 microsatellite loci of 626 polar bears sampled from four different areas within the archipelago we noticed a 3–10% loss of genetic diversity across the study period, accompanied by a near 200% increase in genetic differentiation across regions. Microsatellites are very good genetic markers for the purpose because they are highly variable and have been used for many years; accordingly, data compiled from previous studies could also be used for the analyses. The observations of our study may best be explained by a decrease in gene flow caused by habitat fragmentation owing to the loss of sea ice coverage. These changes also cause increased inbreeding of local polar bears within in the Svalbard Archipelago, and it can be expected that the loss of genetic diversity will have negative consequences for the Svalbard polar bears.
The results of the study have recently been published in the prestigious scientific journal Proceedings of the Royal Society B – Biological Sciences. The paper received international attention, e.g., in the journal Nature (https://www.nature.com/articles/d41586-021-02438-1) and by the Norwegian national TV NRK (https://www.nrk.no/tromsogfinnmark/mindre-havis-gir-isbjorn-pa-svalbard-faerre-a-pare-seg-med-1.15660262 – in Norwegian).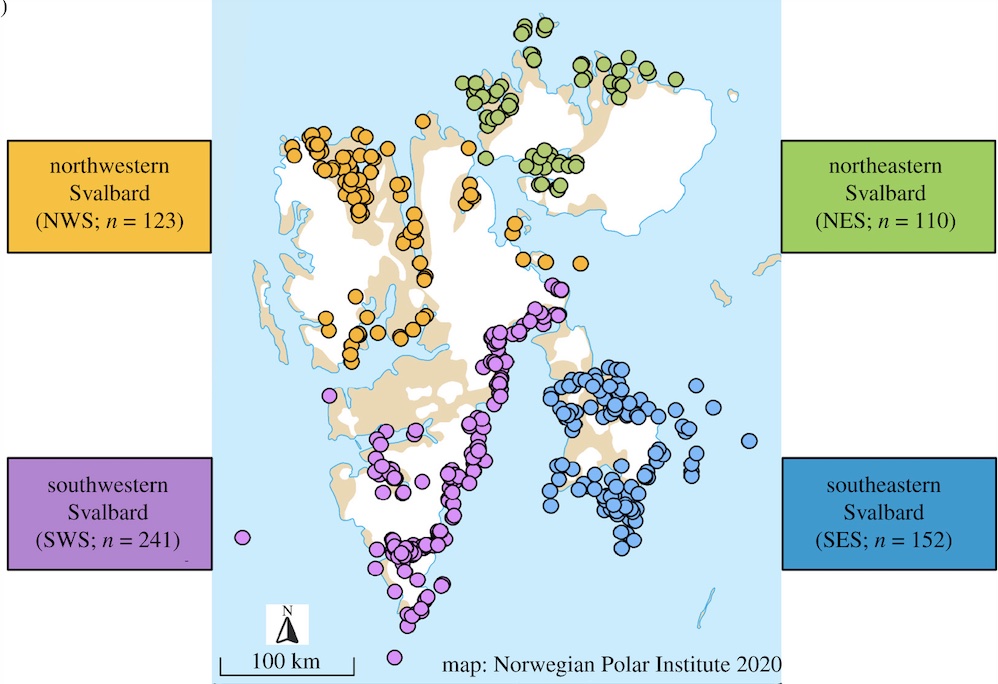 Simo Njabulo Maduna, Jon Aars, Ida Fløystad, Cornelya F. C. Klütsch, Eve M. L. Zeyl Fiskebeck, Øystein Wiig, Dorothee Ehrich, Magnus Andersen, Lutz Bachmann, Andrew E. Derocher, Tommi Nyman, Hans Geir Eiken and Snorre B. Hagen. 2021. ea ice reduction drives genetic differentiation among Barents Sea polar bears. Proc. R. Soc. B 288: 20211741. https://doi.org/10.1098/rspb.2021.1741